I just HAD to share this AMAZING recipe from
Mac and Cheese Tacos
that I found on
Blog Chef
! It combines two of my all time favorite foods - Mac & Cheese and Tacos! How can you go wrong? And I love that it's so simple. Basically make mac & cheese. Make tacos. Combine them. Easy! Check it out!
"Come join Mac and Cheese Mania at Nutmeg Nanny and Rachel Cooks sponsored by Door to Door Organics and OXO!"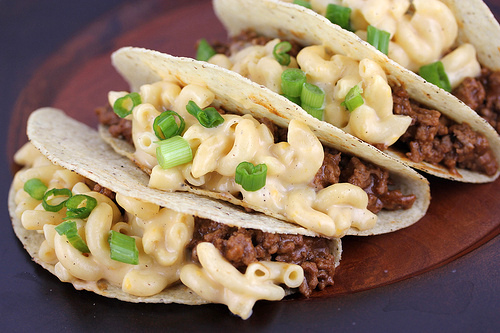 The combination of macaroni and cheese and tacos is absolutely delicious. I got this idea when eating at a local buffet, after combining these two delicious meals into one, I just knew that I had to come up with a recipe of my own. This recipe is pretty basic and uses packet taco seasoning but the macaroni and cheese is completely is completely from scratch. I tried to make the amount of mac and cheese just enough for the tacos but you may have a little left over. You can top these tacos with any of your favorite condiments; salsa, guacamole, tomatoes, lettuce, and sour cream. If you are looking for something a little different, give this recipe a try. Enjoy.
Ingredients:
1lb ground beef
1 (1.25 ounce) packet taco seasoning mix
1 cup green onions (sliced)
hard taco shells
Macaroni and Cheese-
4 ounces uncooked elbow macaroni
1/8 cup butter
1/8 cup flour
¼ teaspoon salt
1 small dash black pepper
1 cup milk
1 cup shredded cheddar cheese
Cooking Instructions: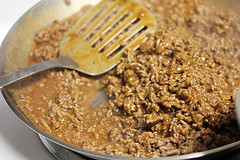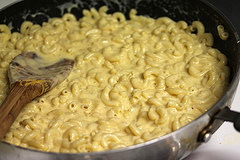 Step 1: In a medium skillet over medium high heat, brown ground beef. Drain off any excess liquid and stir in the taco seasoning mix and ¾ cup of water. Bring to a boil, reduce heat and simmer for 5 minutes (or until the ground beef is fully cooked), stirring occasionally.
Step 2: Meanwhile, cook elbow macaroni according to package directions. While the elbow macaroni is cooking, melt butter in a medium saucepan over medium heat. Stir in flour, salt and pepper. Cook for 2-3 minutes awhile stirring. Slowly add the milk and cook while stirring until the mixture becomes somewhat thick. Stir in cheese until melted. Remove from heat. Drain the elbow macaroni and add it to the cheese sauce. Stir to coat.
Step 3: Place a little of the taco meat into each hard shell taco and top with macaroni and cheese and green onions.
(Makes 4 Servings)
All credit for this deliciousness goes to
Blog Chef
!